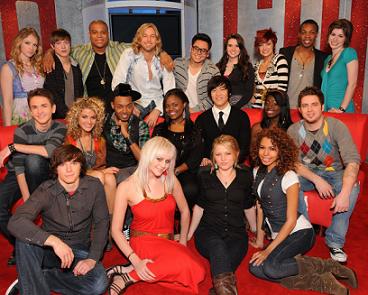 Idol kicked off this week with the news of Crystal Bowersox entering the hospital for what is rumored to be a severe case of diabetes.  The singer's illness left the producers unsure whether she'd be well enough to sing on last Tuesday's show, so they pulled a last minute switcheroo instructing the boys kick off the week.
And the boys seemed okay with the mix-up on Tuesday night's American Idol showdown, which brought out a smidge more talent than we saw in the first go around.  Unfortunately, compared to the show's previous seasons it is clear this crop of guys isn't going to leave viewers overly impressed.  The most improved was Alex Lambert, who probably should have been sent home after his disasterous performance last week.  But this week his nerves, while still present, were calmed by the addition of his guitar and he actually showcased a pretty solid tone in his voice that could very well win him a spot in the finals.  And while Lambert took a few giant steps forward, it was Kara "The Cougar" DioGuardi's fave Casey James who's rendition of Gavin DeGraw's "I Don't Wanna Be" under-delivered in a major way.  And the best of the evening belonged, once again, to Lee Dewyze, who impressed us with his calm, cool stage presence while showing off his talent on "Lips Of An Angel", a song that he himself could have had on the radio as a hit.
And after the boys called it a night, it was the girls turn to rise to the occasion.  Wednesday night kicked off with Bowersox, who was cleard by her docs only hours before the show to perform.  Crystal far and away is the most talented performer on the singing competition and will likely stick around through the rest of the season, so long as her "betes" – as she calls it – stays in control.  Following Crystal was the Vote For The Worst's choice, Haeley Vaughn, who chose to sing "Climb" by Miley Cyrus.  And much like Miley, Haeley didn't have much to offer in the talent department.  I want to feel for her, being from Colorado and all, but the performance was quite unfortunate.  My front runners from this week are another Colorado girl, Lilly Scott, Katie Stevens, and Siobhan Magnus, who is the clear dark horse this season.  And failing to impress, Lacey Brown's boring take on "Kiss Me" and Michelle Delamor's horrendous version of "With Arms Wide Open".
Thursday night provided little to no surprises, aside from the horrifying performance by last year's Danny Gokey, when John Park and Jermaine Sellers were sent home from the boys group – both failed in song choice – and Haeley Vaughn and Michelle Delamor from the girls.  And what will happen tonight as the Top 8 – Top 16 total – from each group plead one last plea before the Top 12 move to the Kodak Theater next week?  Will Tim Urban finally get the boot?  What will Katelyn Epperly wear, and will Kara approve? And will Ellen come up with an original thought?  Probably not, but it all goes down tonight on FOX!
Related Posts